Favorites and Best Sellers
Professional packaging
The staff begins your package with inspecting each jar before stretching foam latise protection.

The second step is to place the jars into a 200 # tested mailer. 

Biodegradable peanuts are packed in and around the jars.  We do not stop there! 

We then place the mailer into a priority shipping box with more biodegradable peanuts added around the mailer.

The priority box is taped securely and the corners are double taped.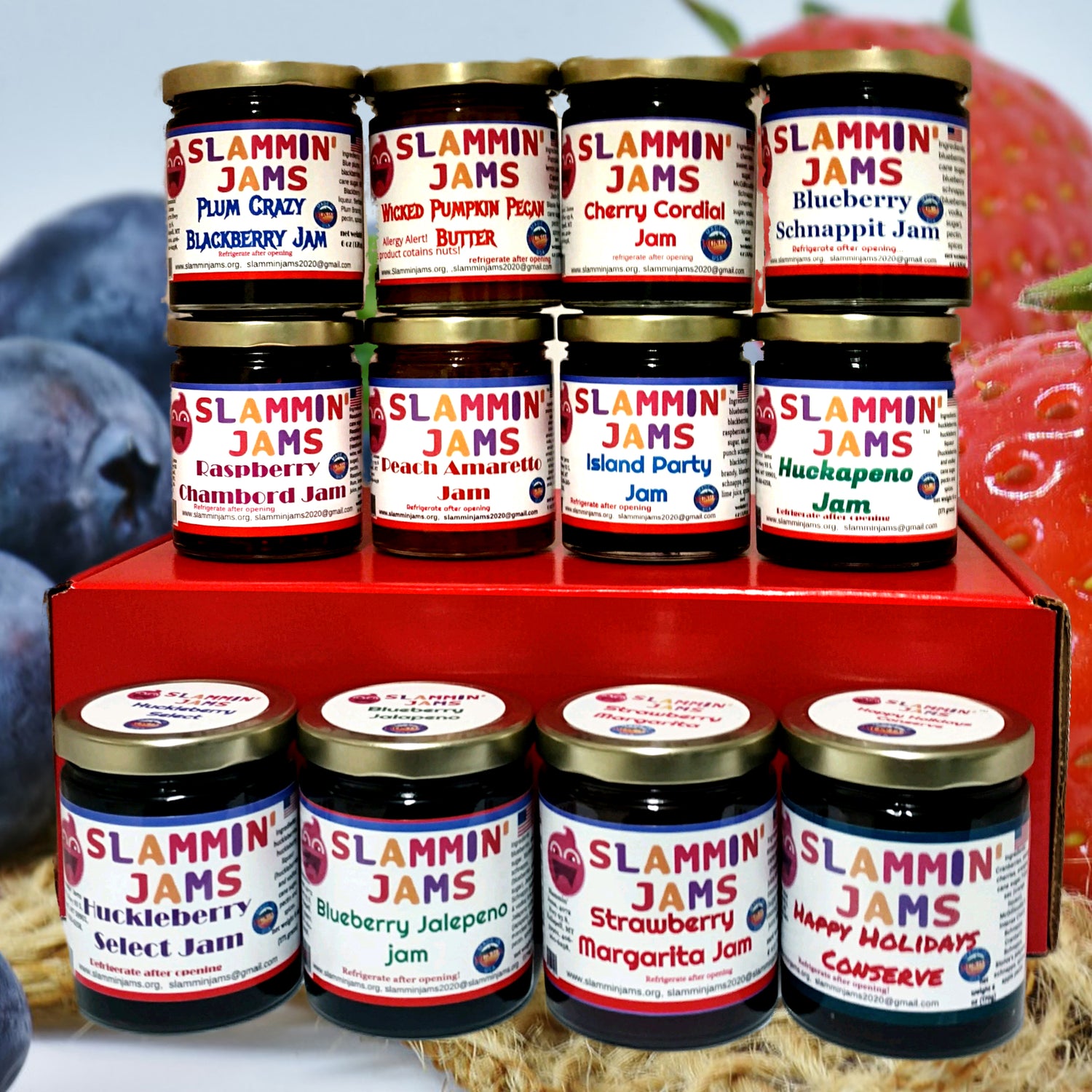 Our goal is to not only provide you with the best and tastiest jam but to make sure you receive your order in excellent condition.  Good packaging and fast delivery is especially important for gifts!  
Shop now
Why Slammin' Jams?
High-quality jams with minimal sugar and no fillers made from all-natural ingredients!
Unique Jams Made From Farm-Fresh Ingredients
In 2016, Lowell and Julie Frederick were tired of jams that were mostly sugar, apple juice, and fillers. They started Slammin' Jams believing that excellent products can be made without additives. To date, we offer premium jams and conserves for those who want one of the best in the business.
Dedicated to Uncompromising Quality
To create products with a distinct richness, we base our methods on Depression Era recipes. We use fine liqueur to replace sugars needed for preservation. In the process, the liqueur cooks off. This simple alteration intensifies the taste of the fruit, enhancing the overall flavor.
Made From All-Natural Ingredients
We are proud of making decadent products with great care instead of mass marketing. Made with ripe fruit, our products have low sugar, no fillers, and no artificial additives. You can be sure that each jam and conserve you purchase from us is made from the best all-natural ingredients.
Mission Statement
Our goal is to produce high-quality jams with minimal sugar and no fillers by using pie quality (ripe) all-natural fruit, liqueurs, lemon, and lime juice instead of artificial preservatives and thickeners.
Our Credentials
Slammin' Jams makes products in a commercial kitchen in Montana. We are a fully licensed company that can sell our products outside of the state. In addition, we are rated A+ in production and cleanliness.